How To Allow Windows 10 Feature Updates With RollBack Rx Pro and Reboot Restore Rx Pro
Posted by Kurtis Smejkal, Last modified by Kurtis Smejkal on 18 Jul 2019
RollBack Rx Pro and Reboot Restore Rx Pro were recently updated to Version 11, which now allows for Windows 10 Feature Updates (formerly known as Creator Updates) to be installed without any negative effects for your machines. Each program will temporarily disable select elements of the software while the updates are running. This prevents the machine from changing the infrastructure of Windows 10 while affecting our software in a negative way.

First off, you will need to be using Version 11. If you're using an older version of the software and need to upgrade to Version 11, please contact our sales team. You can ask your Sr. Account Executive; or you can always email us at sales@horizondatasys.com, call us at 1-800-496-0148 option 1, submit a ticket, or chat with us using our live chat system.

Once you've installed the appropriate version, there are certain steps to follow to ensure that you are configuring the software correctly.
RollBack Rx Pro
IMPORTANT NOTE: Selecting this option for RollBack Rx Pro means that your snapshots will be deleted after the installation of a Feature Update. You will want to transfer any important data over to your current state prior to installation to avoid any unwanted data loss.

1) Open up RollBack Rx Pro, select Tools > Settings




2) Navigate to Advanced Settings, once there, ensure that "Allow install of Windows Updates that cannot be rolled back" is checked.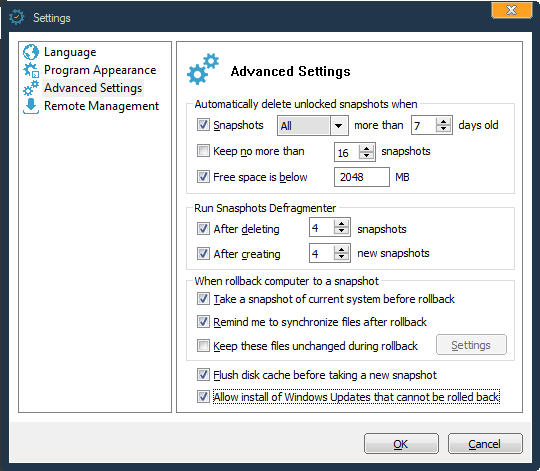 Reboot Restore Rx Pro
1) Open up Reboot Restore Rx Pro and navigate to Tools & Settings and then click on Settings.
2) Navigate to Program Settings, once there, ensure that the 'Allow install of Windows Updates that cannot be rolled back'
NOTE: With both programs these settings can be changed from the Endpoint Manager, you can also preconfigure these settings using our various Deployment methods.

For any further questions and/or comments about Windows Updates, RollBack Rx Pro or Reboot Restore Rx Pro; please Submit a Ticket and a Senior Technician will respond to you within 24 business hours.
---