Can I install Rollback Rx on a Multi-Boot System configuration?
Posted by , Last modified by on 27 Sep 2013
Yes, RollBack Rx can be installed on Multi-OS system. However, you would need to install RollBack Rx on both OS's. To understand the reasoning behind this type of installation, you need to realize that RollBack Rx has 2 logical parts:
The Subconsole, which is the mini OS that boots prior to Windows.
The GUI component - which is the Windows component that connects to the Subconsole. ( In this case, there will be two GUI component for each of the OS.)
The following steps will provide instructions on how to install RollBack Rx on a Multi-boot Setup:
During the setup/installation of RollBack Rx.
Choose "Custom" installation, fill up the License Information and Destination Location.
The next step will prompt to select the type of 'Multi-boot Setup'.
In most cases, assuming that this is the first OS you are running the setup of RollBack Rx, select "This computer is a multi-boot system, install the software in this OS now" and then select next and continue the installation process.
The installation process will complete the first OS setup, then it prompt you to boot into the second OS and continue the setup.
After the second OS setup for RollBack has completed, the system will restart to install the subconsole.
The last part of the installation will install the subconsole of RollBack Rx.
Below is a screenshot of what you should see during the Multi-boot Setup Selection.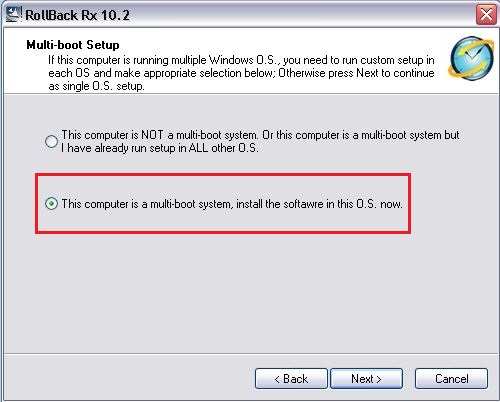 Note: RollBack Rx is currently compatible only on Windows Operating System.
Do not install a Linux partition. When you are running under Linux, RollBack Rx is not loaded. This implies 3 things:
Only the Baseline is visible to LINUX.
Rollback is not running. Therefore, any changes made by LINUX to Drive 0 instantly corrupts the Baseline, as far as Rollback is concerned.
A corrupted baseline implies that every snapshot (which is incremental on the baseline) is instantly corrupted.
Your system will become unusable. You will have to restore the Disk from an external backup to recover.
If you have trouble installing RollBack Rx- contact Horizon DataSys technical support -> "Submit a Ticket"
---