News

Hi Folks, 

RollBack Server Edition version 4 is out now. Ideal for protecting your enterprise server PCs.
Quickly and easily recover from failed software installs and updates, virus/malware or ransomware issues, and minimize downtime. 

Feature Notes (version 4.0 / build 2707712778)
- support for Windows Server 2022 / Windows 11 
- fixed issue with switching protection mode back on after turning it off

Release Notes
Download Link

=================

We also have updated builds for RollBack Rx Pro
Read Complete article
---

The much-awaited latest release for RollBack Rx Pro 12 and Reboot Restore Rx Pro 12 is out now

What's new?
- Windows 11 Compatibility
- GUI refresh
- other bug fixes and stability updates from customer feedback.

More info regarding the new releases and any questions on upgrade eligibility in the links below:

RollBack Rx Pro version 12 FAQs | Release Notes

Reboot Restore Rx Pro version 12 FAQs | Release Notes




Read Complete article
---

New builds are now live for both Reboot Restore Rx Pro and RollBack Rx Pro.

You can check the release notes for more info

RollBack Rx Pro v11.3
Build Number: 2706604806
Release Notes

Reboot Restore Rx Pro v11.3
Build Number: 2706680670
Release Notes

(Please note that you do still have to uninstall your current version to update to the new builds and you lose your snapshot history when you uninstall) 

We have also updated our support portal to be HTTPS compliant for more security. For any questions
Read Complete article
---

Hi Folks, 

We have recently made the "Check for Updates" feature live on our server side for RollBack Rx Pro. 
This feature will check your current installed version with the latest public build available.

If you are using version 10.x or earlier releases of version 11, you will receive this notification when you run "check for updates" 

You may have already received a popup notification similar to the one below if you've enabled "Automatically Check for Updates"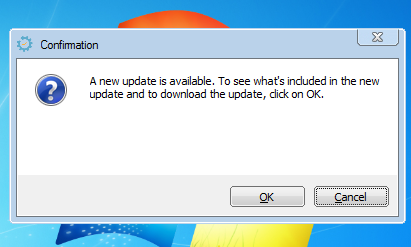 Once you hit "OK" on the
Read Complete article
---

Hi Folks,

We have new builds out for RollBack Rx (Pro and Home) and Reboot Restore Rx (Pro and free) 

Some highlights on the new builds:
General: Disable Windows fast startup if a snaphsot@1st bootup of the day scheduled task is present.
General: Add setup switches to exclude user Desktop and Documents from restore.
General: Add Snapshot Validator tool.
General: Add dynamic disk support.
General: Fix setup problem on single larger than 2TB partition\
Driver: Fix setup BSOD caused by setting
Read Complete article
---

Hi Folks,
Great news! We've just released a new build update (version 10.7) for both RollBack Rx and Reboot Restore Rx that addresses some Windows 10 compatibility issue as well as implementing new features and fixing other bugs and issues. 

Here are the changes that apply to RollBack RX Pro, Home & Server Edition and Reboot Restore RX Pro and freeware.
(for Rollback Rx Server and Reboot Restore (Freeware) the version number is listed as 2.2)


ROLLBACK RX
Fixes Secure Boot Issue for
Read Complete article
---