How do I use the Other update (Custom Update) setting?
Posted by , Last modified by Jester Santos on 14 Sep 2023
Within Reboot Restore Rx Professional users can set the program to automatically download, run, and install Windows updates and Other updates in the System Baseline menu.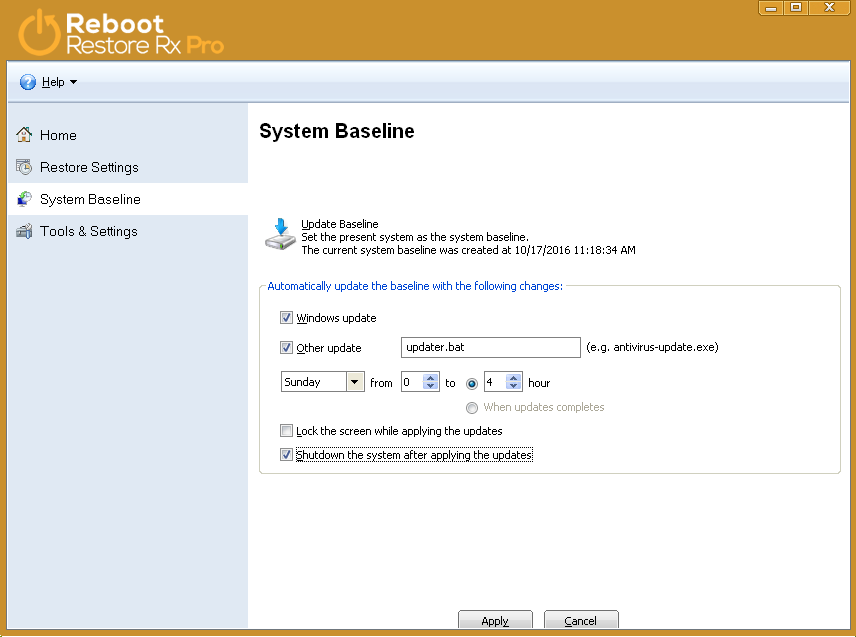 These are the outlined steps in order to produce the best results while using this feature.
Check the update box for either Windows update, Other update, or both if you plan for several updates to run.
If you have selected Other update, please enter in the update executable for the program you wish to keep updated. If you are updating several programs, you will need to create a batch file* and list out each individual program update executable including the filepath. Fill in the section with the name of the batch file (see example below).

3. Select a date/time for the automated updates feature to begin and end (should you choose an end time, it is recommended you set aside a minimum of FOUR hours). This opens a maintenance window and triggers all the updates listed to download, run, install, and update the baseline. (If the updates are being pushed out from a central server, or are already downloaded onto the machine, this should trigger the installation rather than result in re-downloading the updates).
4. Click Apply to stick the settings.
*If you are unsure how to create a batch file, there are several instructions available online (i.e. http://www.wikihow.com/Write-a-Batch-File).
---